This Labyrinth was a community project. It began under the sponsorship fo The Earth Conclave in 1997. The canvas was sewn, the path outlined, gesso applied, and designs painted. Many people have participated and added to the whole. Each participant, whether by adding color or images to the design, or by walking the path, adds energy and spirit. The path in to the center and out again becomes more intricate and meaningful each time it is walked. With each person's addition, the symbology and magic grows.
A Labyrinth is a unicursal (single-path) maze. The path leads eventually to the center, with twists and turns that take us close to the middle, then out toward the edge, before finally reaching the still heart at the center. It is a metaphor, a walking journey to the center of ourselves, the center of the mystery. We then return to ourselves anew, by the same familiar path.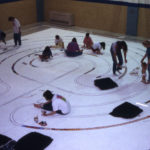 Here it is in process, being painted by members of our family, and art and pagan community. Click for full image.
Update: The Labyrinth now has a new Home.  It is in the care of the First Unitarian Society, 900 University Bay Drive, Madison WI.