OK, so one more Broom, then perhaps I'll turn to some of Rae's other  themes, especially if I start getting more feedback.  Any requests?  Cabinets, Cauldrons, Mirrors, Weavings, Copper Electroforms?  Eventually I'll get them all.
The Celtic Totem, I think, was the first piece Rae did in Basswood.   She also used broomcorn that we grew in our garden plot at Eagle heights.  (The poor raccoons, who usually got most of the sweetcorn folks planted there, were so confused, it just kept growing taller, and never had any ears to steal!)
It was the most complex carving she did to that date, too, because it was to tell a story.  One that she related many times, unlike most of her other pieces, where if she told the story, it was to an individual or small group, and seldom repeated.
The story is a retelling of one she heard as a child, from her Irish ancestry.  As I recall it:
"Long ago, Ireland was a cold and rock island.  The cold, the poor soil, and the weather made it hard to live there.  The women cried because their children went hungry.  "
The base, with the homegrown broomcorn, carved to represent a rocky, mountainous island.
"Their tears fell through cracks in the earth and woke a Dragon sleeping there, who then heard their cries.   Out of compassion, she used her fiery breath to warm the land from beneath, making the island lush and green."
"The women learned the power in their bodies,  had many children, and learned from the island.  They learned to grow food, to raise families.  They grew numerous.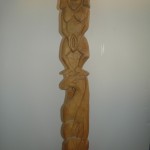 From the wolf, they learned about community, about sharing and protecting each other.  And so they lived their lives well till they died, when the Raven took their souls back to the Earth."
The broom "stick" is one large piece of basswood.  Rae drew the design on a large strip of paper, transfered it using carbon paper t the front, then flipped both wood and paper to do the same on the back, (just the outline), then sketched in the things that would be viewed on the back.  on each side she did similar sketches, then started removing large chunks of wood.
At some point, I remember coming up with the idea to mount the piece vertically, so we created a set of braces with "lazy-susan" bearings, and used a small pneumatic jack to tighten the whole thing up against a ceiling joist in the garage.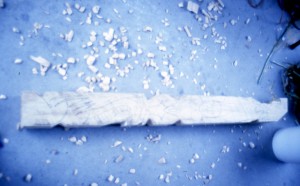 Rae was very proud of this piece.  She liked her Irish heritage, the symbols all had special power for her, and she wanted to do a Sheela-na-gig ever since she first came on them in her research.  A review of her show by a reporter from a Madison newspaper, I think, called it a "broom for a god".
Tags: Art, broom, sweeping changes, wood