vailable!  $500
She of a Thousand Names, an Ironing Board Exhibition Honoring the Goddess, curated by Lynn Slattery  Helmuth.  1997
Rae was asked to participate as one of 13 artists for this show, the format determined by Lynn Hellmuth, with the theme being honoring the Goddess in her many forms, the medium sculpture, the common factor that of the ironing board.  In 12 of the pieces, and actual wooden ironing board was used.
Rae's piece took an antique pine ironing board, made a base for it with two crossed boards and a circle of pine around them, a Celtic Cross.  The ironing board fit into a curved slot carved into the base (curved because the board had warped over the years, and was no longer flat).  The base also had 4 wooden Celtic spiral emblems in lighter color, repeated also on the bosom of the piece.  This was Rae's first experience using a jig saw, which also produced the Celtic knotwork making up the "belt" visible  in the picture, and the individual pieces making up the bosom, beginning with a large oval, with two rounded triagles cut out, then a double spiral, carved where solid to make the breasts, and finally two more of the emblematic disks, also called triskels.
The goddess' face is an oval of wood, almost featureless but for the hint of eyes.
The belly of the piece is one of Rae's signature embroideries, a beautiful Celtic knotwork with the colors flowing from orange to gold.
On the back of the piece is her hand-written Artist's Statement:
———————
Lady of Choice:
The Goddesses of The Crossroads
Each of us makes "choices" daily — from what to eat for breakfast, to far more important decisions.
The legends of many Goddesses say they spin out our lives, some even weave the patterns of the world — but the fates do not "choose" for us.  We have the power of self determination, we have "the ability to respond" — to our lives, our world, our ethical beliefs, our hearts.
The Journey through this life is not just about our bodies being born, growing, aging and ending.  It is also about our minds, hearts and souls…
The double spiral path, the three gates, the interlacing and nexus points of the paths of our lives (which are never lived in isolation) and the crossroads are symbols of the Goddesses who support and protect our right to choose…
For that ability — I see my hours of "making" as an offering to them, an acknowledge of this gift — to be a self-responding/self-determining creature…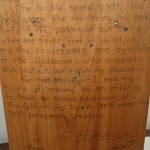 One of the very few pieces Rae actually signed.
Others in the show besides Rae and Lynn were Janet Shapero, David Aguirre, Truman Lowe, Leslee Nelson, Claudia DeLong Pope, Nana Schowalter, Kitty Slattery, Nancy Cramer Lettenstrom, Paulette Werger, Helen Klebesadel, Kicki Hankell Persson.