From the Women, Domesticity and Objects of Power show.  This cauldron is one of 3 Rae did in Bronze, representing Water.  The Earth Cauldron I've already Presented, and the Fire is coming in a few weeks.  There was no Air, She ran out of time and access to the foundry before she designed one for Air.
The Water Cauldron came out exactly as she envisioned it, she was always very proud of it.  The designs are Celtic-inspired, with knot work around the rim, a mermaid holding the chain link for a handle loop (no handle has been made), and three naked goddesses for feet, their hair flowing up and merging with the cauldron.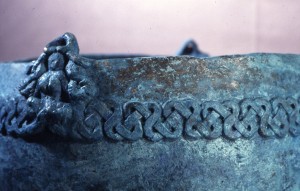 The fantastic blue color was Rae's choice of patina, created by brushing copper sulphate solution over the cauldron after all the spurs were cut, imperfections ground out, and the last of the plaster cleaned out of crevices.  She would patio the outside, , then the inside, let them dry to a flaky blue-white, then paint right over that again with the solution, 7 or 8 times, drying completely between.  The outer layers of the metal finally took the color, and now it is a part of the surface, and would take a lot of sanding to remove (as if!)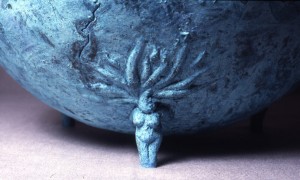 This Cauldron, like her Earth, was made over a beach-ball mold, with the knot work carefully measured and carved in a flat ribbon, and then melted to the outside edge.  Similarly, the feet and handles were carved in foundry wax and applied to their final positions before the burn-out and pour.
The Continuity Cauldron is heavy, though not as heavy as the Earth one, and it can actually hold water.  It IS water, in metallic form.  Happy Birthday, Rae!?
Tags: Art, bronze, Cauldron, Women's Culture