Available!  $550
Rae first presented this piece in a group show called Conundrums, if my records are right.  It was the last time she used a lathe.  The handle was not too bad, but the large piece of spalted elm for the bottom was just a little too scary turning at 500 rpm.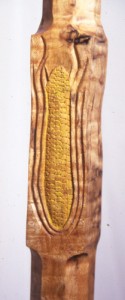 The handle started as a piece of quilted maple, the same that Inspirational Simplicity came from.  After turning and polishing it, she carved corn ears into the parts she left square.  Then used wood dyes to color in the kernels of the corn.
She turned the base, mortised a square hole to take the top, and burned designs in, filling with more dye.
The skirt is a set of handwoven baskets, dyed to look like multicolored corn.  Many people on first glance start by wondering where she got such corn ears, they look so realistic.