Available! $1000
From the Age of Confusion: Ancient Mother, Modern Lies
walnut, silk, bronze, clay, mirror
This is one of the pieces from her MFA show, Women, Domesticity, and Objects of Power.  As most of the pieces, its title begins: From the Age of…
Rae really liked creating this piece, I know.  It combines many different media, tells its story without translation or comment, a different story to each viewer.  She got to work with silk, and photo transfer images; wax figurines that were spin-cast; stained glass; terra-cotta; and wood.  Each aspect could stand alone, together they make an exquisite piece.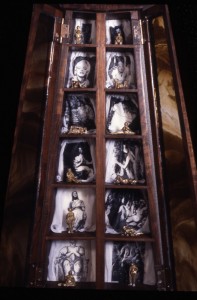 I remember the piece started with the images on the silk, behind the bronze figurines inside the cabinet.  She had seen a set of lovely silk pillows/sachets with goddess images on them, and discovered the images were photo-transfers, so she selected a dozen images of women: the Laussel goddess, Marilyn Monroe, Mae West, others I recognize but can't name, since I did not take any Art History classes.  She chose the size she would eventually make the box for each, then experimented with the technique till she was satisfied.
The little bronze figurines were painstakingly molded in wax, she carried around a Tupperware container with dental tools and would work on them during lectures and between classes, at meetings, and while watching TV.  They depict shamelessly large, brazen (literally!) voluptuous sexy women in a variety of poses.  The spin-casting technique was fun, too, I helped her set them up.  Instead of a large foundry, the molds were in small steel cylinders.  these were placed on an armature, the molten bronze poured in, and the lid slammed down, which engaged a lever and fulcrum, spinning the mold at several G's, forcing the molten liquid into the small spaces before it cooled.
The wooden cabinet is reminiscent of a wall clock in shape, I had to help her determine the miter angles, she used spline joints all around, the only metal in the hinges and to tack the back on.  The walnut is carefully matched for color and grain.  The colored glass carefully cut to fit into the doors, I remember holding my breath during that, we only had one piece of glass to use, the last of its color, a beautiful smoking golden.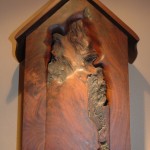 The top was another achievement.  Looks a bit like a birdhouse, maybe ready for a cuckoo to pop out of.  The door and it's frame appear to be made of one piece of wood, so well matched is the grain, but it was not.  The door itself was a piece of Walnut burl, and the frame was carved to receive it's curves.  Inside Rae placed one of her ubiquitous mirrors, framing a terra-cotta goddess like the neolithic figurines found in Europe, very much like the one in the Spiritus piece from last week's blog.
I think you know who the ancient mother is, and I'll let you infer yourselves about the modern lies, as Rae would have.  Enjoy!
Tags: bronze, Cabinets, goddess, mirror, Women's Culture, wood