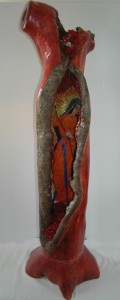 Available! $1000
Central Core: Roots of Faith
wood, textiles, beads, silk flowers.
Rae did not quite finish this piece, and it was never in a show.  So the name is from a list she had for a recent show, one that did not fit anything else that was in that show, and I am assuming it referred to this piece, which was several years in the making.
The main structure is a section of a tree trunk, maple, with a large cavity, surrounded by the distinctive almond-shaped scar (hence the "Central Core", look it up) where the tree continued to grow and try to heal over the opening.  The top of it, indeed the whole shape, is suggestive of a torso, and so Rae saw it, and planned the piece to take advantage of that.  The bottom was not large enough to balance and support the rest, so a separate tree stump was used, attached and carved to fit.  The joint is obvious but subtle.
Rae removed all the bark from the outside, but left the callus, the healed section around the opening, and removed a lot of soft, punchy wood from inside.  The outside was then smoothed and dyed with red and black, covered with clear varnish, and I leave it to you, as she did, to determine what it evokes in you.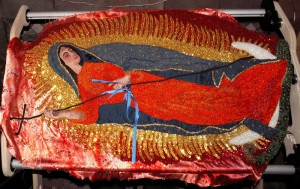 Inspired by the wayside shrines of Europe, the kapliczki, and the art and craft around the Lady/Mother/Goddess represented by the Guadalupe shrines, she embroidered and beaded her own Lady to fit inside the piece.  She finished all but a few square inches of the sequin/bead fill at the top of the image, which was completed by friends visiting the house in the days after her death, so the piece could be fished for her "Birthday Party" May 16th 2009.
Mounted in the opening, surrounded by silk flowers, the piece was done and looks incredible!